Raymond Fonck resigns his position
November 2021
Managing Director Raymond Fonck has made the personal decision to resign his position with Medcor Specials effective from 31 December. In recent years he contributed to Medcor Specials becoming an important player in the area of the distribution of special preparation medicines. We thank Raymond for all his hard work! His responsibilities will be taken over by Rogier Huber, Marketing Manager, and Rignalda Rijsenburg, Operational Manager. We wish them success!
Patrick Sturkenboom (Managing Director Medcor Group)
=======
Our new office building realised within five months
Juni 2021
This past year we moved into a new office building. The building, which has four floors and is situated on the Artemisweg in Lelystad, is connected to our existing building. Trovium Projectrealisatie and modular builder Jan Snel completed this project within five months.
Hard deadline
Since our establishment in 2000 we have grown to become a major player in the area of parallel-imported branded medicines. As a result of this expansion we needed more space to accommodate all our business activities, so we decided to construct a new office building. "In view of the merger of Fisher Farma and Medcor Pharmaceuticals we also had a hard deadline for the project", explains Chris Piket, our Marketing Director.
Contemporary design
Its angular lines give the new building a contemporary look. The timber, aluminium composite and metal cladding of the façade add sustainable elements to the construction. The new building has a total surface area of approximately 1,680 m² with four floors and a roof terrace. The appropriate covid safety measures were observed during the construction and when the building was taken into use, and include clear walking routes, desks with acrylic screens and adequate distance between the aisles.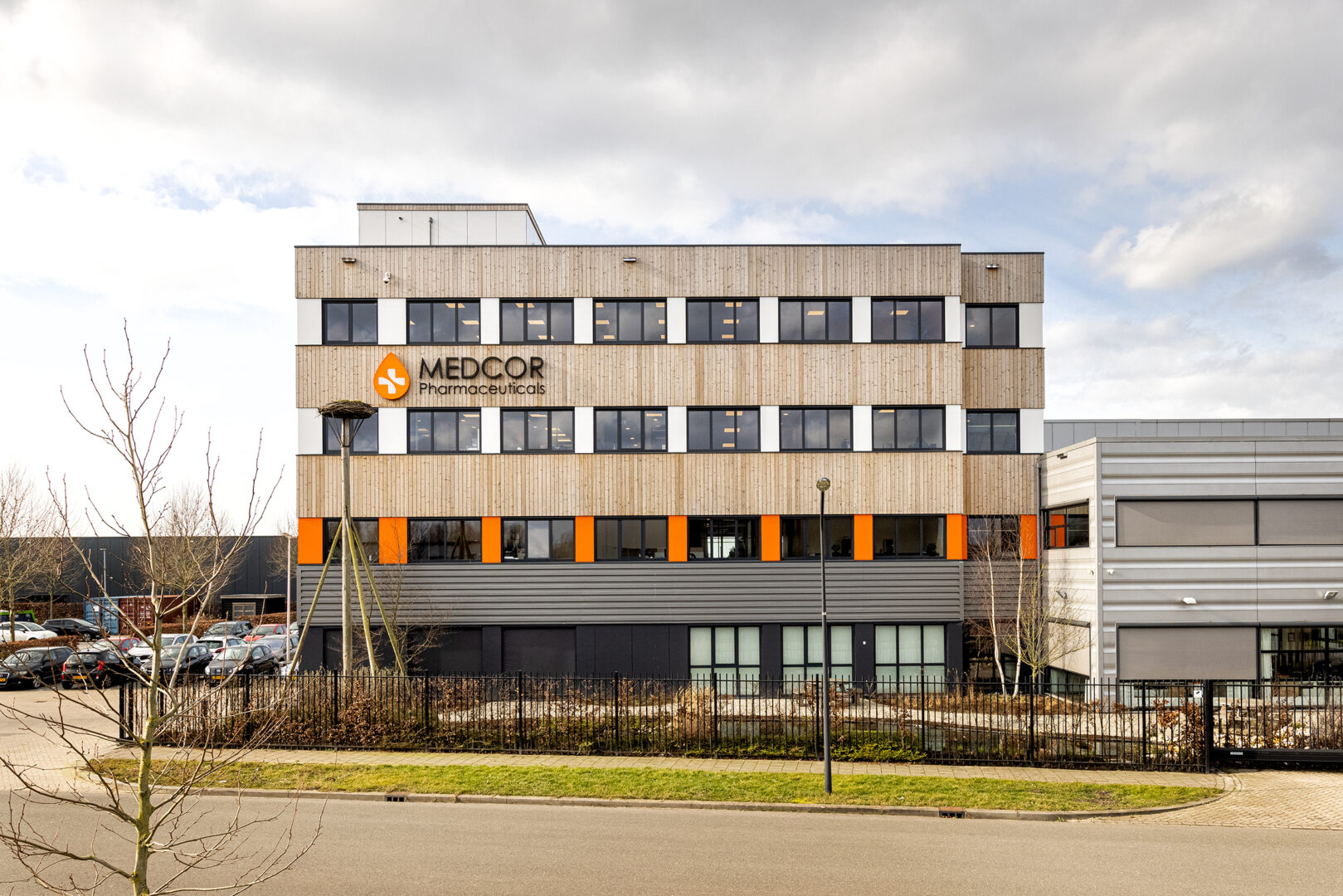 The new office building is light and spacious with accents in orange, the colour of Medcor Pharmaceuticals.
One of the aspects of the façade cladding is a layer of orange. "In the design we opted for a colour that everyone associates with the Netherlands", explains Pepijn van Druten, Managing Director of Trovium Projectrealisatie. "Even with the contrasting elements the office is a seamless match with the existing building, both physically and aesthetically."
Unique appearance
With the aid of industrial construction methods our office building was realised in a mere 20 weeks. This meant that components of the building were pre-manufactured in the factory and then assembled at the building site. The main load-bearing structure and exterior wall elements were assembled in six days. The building was subsequently finished and fitted out and delivered as a turn-key project.
"We are extremely proud of our joint results in Lelystad", Harry van Zandwijk, CEO of Jan Snel, tells us. "The combination of façade elements gives the building a unique appearance. And the fact that hardly any permanent office buildings have been constructed in recent years makes the Medcor Pharmaceuticals project extra special."
=======